Enhancements to Statistical Products
Starting from March 2023, the Census and Statistics Department (C&SD) has been enhancing the statistical products published on this website to improve user experience in obtaining statistics. The enhancements include:
Web Table – More statistics are presented in the form of Web Table
Web Report – New issues of most regular statistical reports are published in the form of a new product type, namely Web Report, starting from April 2023
Users can browse both products through browsers on desktop and mobile devices conveniently, and download the statistics therein in various formats.
(I) Web Table
C&SD has adopted Web Tables (i.e. tables in the form of webpage) to replace most of the previous statistical tables in Excel format (i.e. table number starting with "E") and those in statistical reports (in PDF format) to enhance their usability. The enhancements also cover enrichment and re-organisation of the contents of some statistical tables. The total number of Web Tables in this website has increased from around 170 to over 500.
Users may wish to note
C&SD has assigned new table numbers to all Web Tables. Some statistical tables have also been re-organised. Concordance tables between the old and new statistical tables are given here.
The URLs and parameters (e.g. table number and variable code) of the Application Programming Interface (API) and Bookmark functions of previous Web Tables have been updated after the enhancements. Users are required to set up the API query and table bookmark again accordingly.
Users are welcomed to contact webmaster@censtatd.gov.hk via email for technical assistance, or leave your questions here.
Features of Web Table
Functions of Web Table: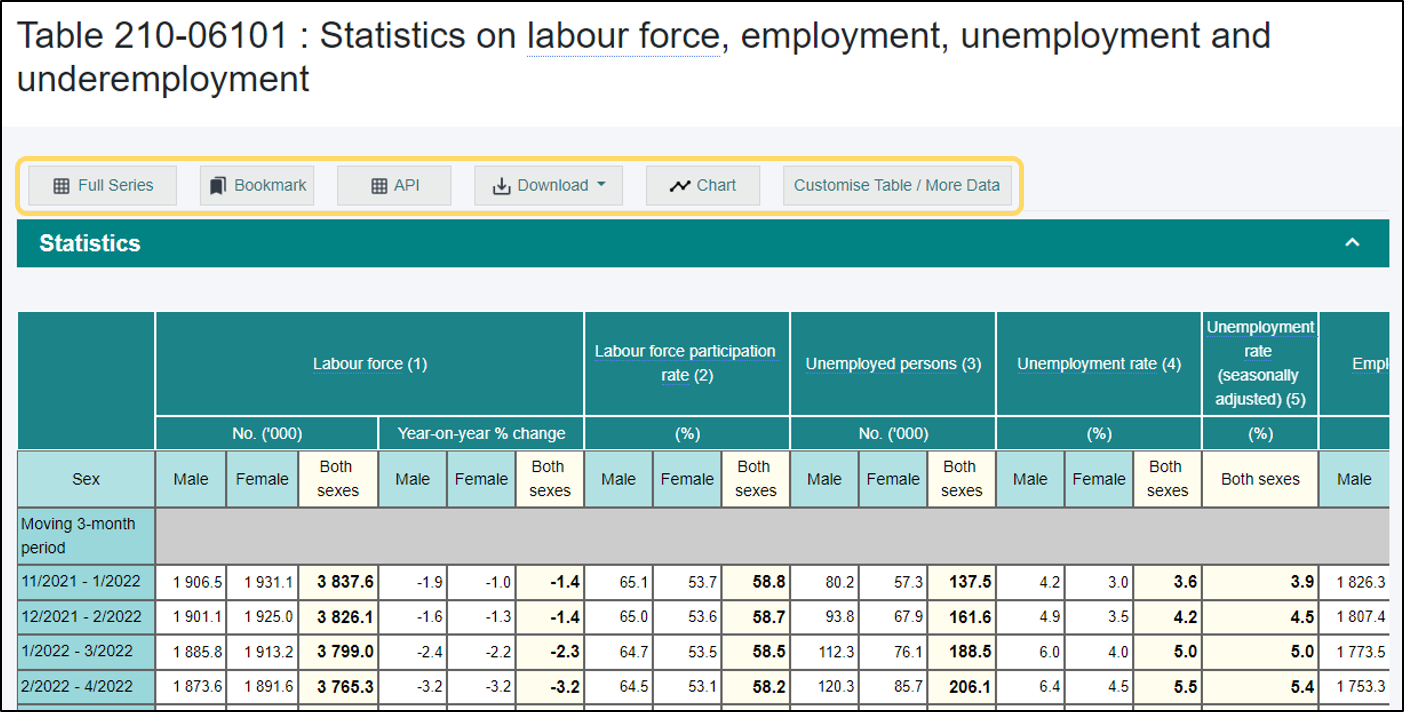 Button
Function
Full Series / Default Series
Toggle between the default and full series

Default series: Simplified table showing only statistics for recent periods
Full series: Full table showing all statistics for all periods

Bookmark
Function to save your own customised table for future use.
API
Application Programming Interface (API) function to allow direct extraction of statistics using machines.
Download
There are different download options available to facilitate users' further processing of the statistics, including XLSX, XLSX (excluding symbols in data cells), CSV formats, CSV (excluding symbols in data cells), CSV (Tabular format) and XML formats.
Table / Chart
Toggle between table and chart views

Detailed statistics are shown in table form
Key statistics can be displayed in chart

Customise Table / More Data
You can customise the layout and contents of your own table by selecting the statistical/classification variables and the time periods.
A specimen and a demonstration video of Web Table are also available for user's reference.
(II) Web Report
C&SD has been rolling out Web Reports (i.e. reports in the form of webpage) progressively from April 2023 to replace most of the traditional statistical reports in PDF format. The tentative release schedule of Web Reports is given here.
Users may wish to note
Users can access the newly published Web Report on the original webpage of the report, which also contains the past issues in PDF format for easy reference.
Some statistical reports may be spilt or consolidated for clearer presentation of statistics. Details will be given on the webpages of relevant reports.
Features of Web Report
Web Reports provide concise and comprehensible statistical analyses of the latest social and economic trends, complemented with key statistical charts and tables, allowing users to grasp the key statistical information easily through internet browsers at any place and any time. Also, users can download the tables (in XLSX, CSV or XML format) and charts (in PNG, JPG, PDF or SVG format) in the report directly for further processing, as well as export the Web Report in PDF format for printing and retention purposes.
A Web Report specimen and a demonstration video introducing the features of Web Report are available for user's reference.