The Census and Statistics Department (C&SD) website has been revamped and launched on 1 April 2021 to provide a better browsing experience and facilitate quicker access to statistics and information. Below is a quick grasp of the new features.
Major Enhancements
New look and feel – A clear and simple layout and website structure for easier navigation.
Mobile friendly design – Information is also readily accessible in mobile devices.
More user-oriented statistical subject classification – Statistics are organised in a more intuitive way from the user's perspective to facilitate search for information.
Enhanced integrated search functions – Faster search with more effective filtering of results.
New functions in web tables – Easy customisation of web tables to fit your own needs. You can also bookmark your own settings for future use and download the customised tables in different formats.
New Features
1.3-in-1 Search Box

Click the appropriate tab (Statistical Products, Commodity Codes or Industry Codes) and then enter your search keywords.
There are 3 separate search functions in a single search box on our home page.
Statistical Products – Help you to find the subject pages, statistical tables, statistical reports and datasets related to the search keyword entered.
Commodity Codes - For lodging import/export declarations in Hong Kong, the commodities have to be coded in 8-digit Hong Kong Harmonized System (HKHS) codes. This function helps you to find the suitable codes.
Industry Codes - The Hong Kong Standard Industrial Classification Version 2.0 is a statistical classification framework for classifying economic units into relevant industry classes based on their major economic activities. This function helps you to find the suitable industry codes for specific economic activities.
For statistical products search, recommended Subject Pages relevant to the keyword will be shown at the top with the "Recommend" label, while detailed search results on individual statistical products (like tables/reports) will follow.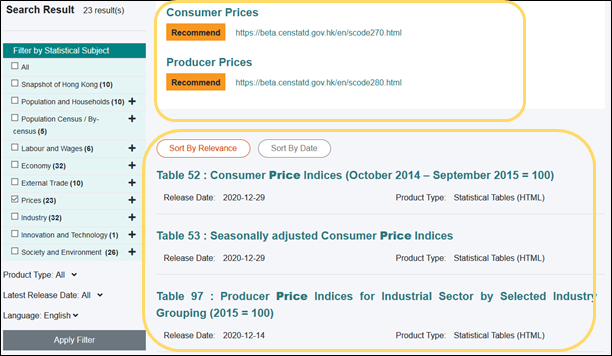 2.Key Statistics on Home Page
This part highlights some latest key statistics of common interest.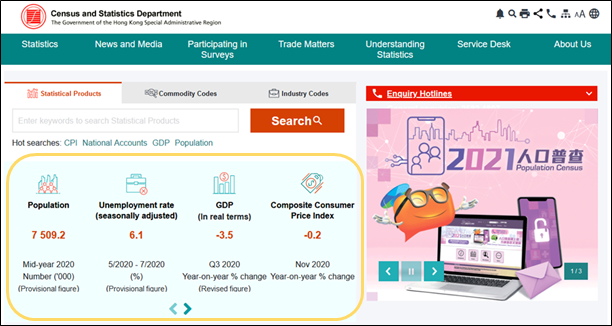 Just click the statistics to go to the relevant table with longer time series or click the icon to go to the Subject Page with more detailed information.
3.Find Statistics by Subject
Similar to the existing website, statistical products are classified under different statistical subjects for easy access. We have reviewed our statistical subject classification and statistics are now organised in a more intuitive way from the user's perspective to facilitate search for information. A full list of all subjects can be found here and a comparison with the original classification is available here.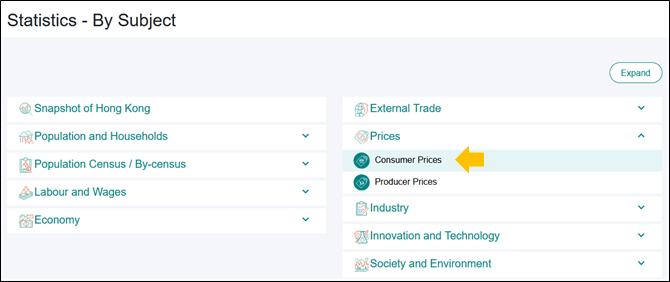 You can click "Statistics" in the navigation menu and then "By Subject" to browse different subjects.
All statistical information (Press Releases, Statistical Tables, Reports, Datasets, Feature Articles, Concepts and Methods) relevant to the subject can be found in a single Subject Page.

4.Full List of Statistical Products
You can also click "Statistics" in the navigation menu and then "List of All Statistical Products" to browse the full list of statistical products at one glance and use the red "Filter by Subject" button on the right to refine your search.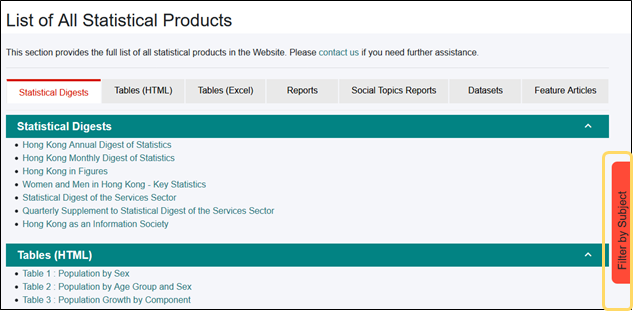 5.Easy Customisation of Web Tables
Commonly used statistics are presented in the form of web tables (in HTML format). For these tables, there are new functions to customise and download the table to fit your own needs. There are now about 140 web tables in our website.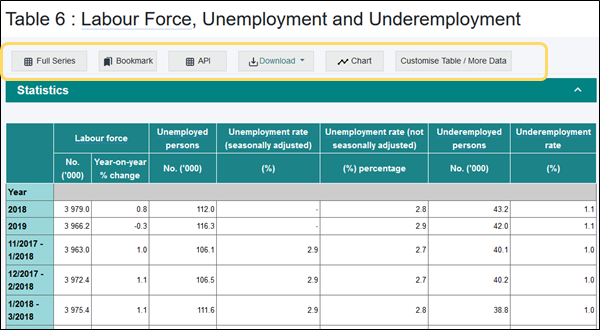 Button
Function
Full Series / Default Series
Toggle between the default and full series

Default series: Simplified table showing only key statistics for recent periods
Full series: Full table showing all statistics for all periods

Bookmark
New function to save your own customised table for future use.
API
New Application Programming Interface (API) function to allow direct extraction of statistics using machines and facilitate the integration of statistics into users' own systems.
Download
There are different download options.
In addition to the original XLSX and CSV formats, new formats, including "XLSX (excluding symbols in data cells)", "CSV (excluding symbols in data cells)", "CSV (Tabular format)" and "XML", are available to facilitate further processing of the statistics.
Table / Chart
Toggle between table and chart views

Detailed statistics are shown in table form.
Key statistics can be displayed in chart.

Customise Table / More Data
You can customise the layout and contents of your own table by selecting the statistical/classification variables and the time periods.
Feedback
Your feedback on the new website is important and will help us to improve. Please share your views here.