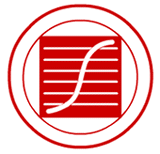 The Census and Statistics Department is conscious of the need to take a close look at its position in the government and in society. It is important to make known the functions of the department in a positive manner to users of its services, including government departments, legislators, the mass media, analysts and researchers, the business community, the general public and foreign and international organisations. To convey more effectively the department's image and identity, a departmental logo was launched in May 1996. The logo serves as a corporate symbol of the department in communication with data users, survey respondents and the general public, so that the department can be immediately recognised.
The departmental logo comprises three elements: line graph, square and circles. The logo reflects the nature of work of the department and the role it plays in the government and society - producer of statistics and adviser on statistical matters. This is symbolised by a line graph, which is a modern, commonly used way to present statistics. This graph also conveys the scientific and professional image of the department. Besides, the curve in the line graph progresses upwards, indicating the department's progressive spirit.
The logo symbolises the way in which the department works. It takes the shape of a square inside two circles. The square in the middle indicates impartiality, integrity and objectivity while the embracing circles stand for friendliness and communicative ability. This design summarises well the style of the department in being "外圓內方" , as the Chinese saying goes [i.e. being round outside and square inside]. On the one hand, the department co-operates smoothly with outside parties. On the other hand, it manages its affairs justly and properly, emphasises professionalism and works on the basis of scientific theories and principles.
There are black-and-white and coloured versions of the logo. For the coloured version, red colour is used, symbolising the department's vitality and reflecting the enthusiasm of its staff in serving the public by providing the required statistical services within the shortest time.